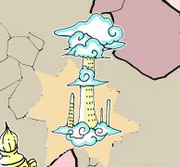 The Celestial Kingdom, sometimes called the "Void Kingdom" is one of Dreamland's Nightmare Kingdom. It is ruled by Kael, the imperio one of the most ancient creature in Dreamland. This Nightmare Kingdom is situated in the third Dreamland area and is above the clouds. 
Due to a large number of people fearing void in the real world, the Celestial Kingdom is considered to be one of the five greatest nightmare Kingdoms in Dreamland.  
Known Travelers
Edit
Ad blocker interference detected!
Wikia is a free-to-use site that makes money from advertising. We have a modified experience for viewers using ad blockers

Wikia is not accessible if you've made further modifications. Remove the custom ad blocker rule(s) and the page will load as expected.