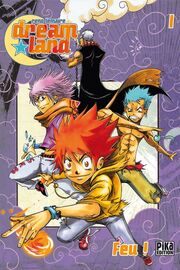 Dreamland is a French manga written and Illustrated by Reno Lemaire, a french artist. The manga is published by Pika edition since January 2006.
Introduction
Edit
Terrence Meyer, a teenager of 18, is a student in high school of Jules Guesde. His mother died in a fire when he was only 7 years old and since then he has a fear of fire. But one night while he was dreaming of his mother prisoner of the flames, he overcomes his fear by controlling the fire. He meets a mysterious man who tells him that he became a traveler, a special kind of dreamer. And from that moment, every night during his sleep, he finds himself transported to Dreamland the world of dreams where he lives many adventures.
Volume 1 Fire!
Volume 2 Duality
Volume 3 Paths
Volume 4 Coma
Volume 5 Travelers
Volume 6 Kazinopolis
Volume 7 Attila 
Volume 8 Mojo
Volume 9 Tattoo
Volume 10 Symphonia
Volume 11 Worldapart
Volume 12 Fiesta
Volume 13 Reunion
Main Characters
Edit
Ad blocker interference detected!
Wikia is a free-to-use site that makes money from advertising. We have a modified experience for viewers using ad blockers

Wikia is not accessible if you've made further modifications. Remove the custom ad blocker rule(s) and the page will load as expected.