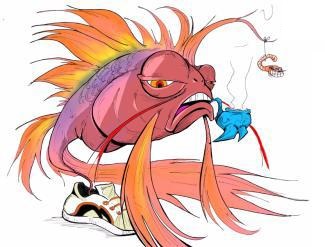 Bulboh is the actual Dreamland King of fishes. He is a Dream King and thrones at the main seat of the Fish tower's main hall. He acts as Savane instructor and mentor in his use of the fishmaker power. Master even among the masters of fishes, he is huge and highly respected.
Bulboh seems to like to tease Savane.
Ad blocker interference detected!
Wikia is a free-to-use site that makes money from advertising. We have a modified experience for viewers using ad blockers

Wikia is not accessible if you've made further modifications. Remove the custom ad blocker rule(s) and the page will load as expected.